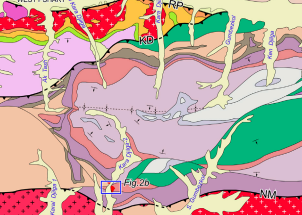 rceeca.tj
  The Pamir orogen was formed by the subducted accretion and amalgamation of Cimmerian terranes from the northern margin of Gondwana with the southern margin of Eurasia. The Mesozoic magmatic rocks are widespread in Pamir and record the tectonic evolution in different stages. The Rushan–Pshart suture zone represents an ancient ocean between Central and Southern Pamir. This paper reports the petrography, geochronology, and geochemistry of Cretaceous granites and diabase dikes that intrude into the Pshart complex.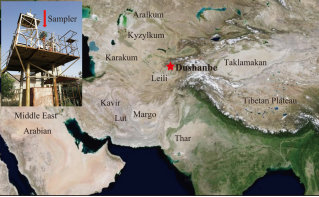 rceeca.tj
  Carbonates cause large uncertainties in determining the concentrations of organic carbon (OC) and elemental carbon (EC), as well as EC's light absorption characteristics, in arid locations, such as Central Asia. To investigate this influence, a comparison between acid (HCl)-treated and original total suspended particle (TSP) samples was conducted in Dushanbe, Tajikistan.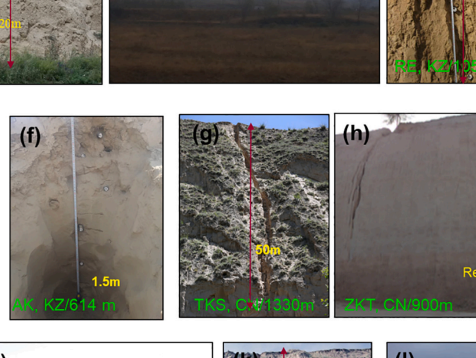 rceeca.tj
  Central Asia (CA) is one of the main loess regions in the world and provides important information for the understanding of paleoclimate and paleoenvironmental changes. However, the spatio-temporal variability of the loess distribution is still not fully understood. Combining previous studies with our recent field investigations, we focus on the spatial distribution and ages of loess sediments in CA. Loess sediments are mainly distributed on the windward piedmonts of Central Asian high mountains, e.g. the Tianshan Mountains, Kunlun Mountains, and river terraces, with distinct pedogenic characteristics. The distribution of loess sediments is not only related to atmospheric circulations and regional climate but also closely related to landforms.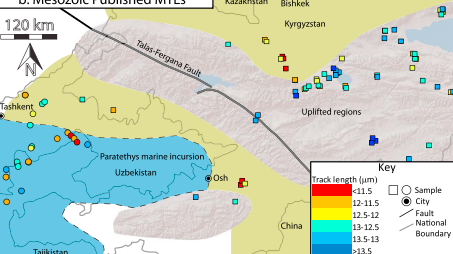 rceeca.tj
  The Chatkal-Kurama terrane represents a key region in understanding the tectonic evolution of the western Tian Shan. In this contribution, we present new thermochronological data (zircon [U-Th-Sm]/He, apatite fission track, and apatite [U-Th-Sm]/He) and the associated thermal history models for 30 igneous samples from the Chatkal-Kurama terrane within Uzbekistan and Tajikistan (west of the Talas-Fergana Fault) and integrate our data with published data from the central Tian Shan (east of the Talas-Fergana Fault).